Filter by Category
Certificate Programs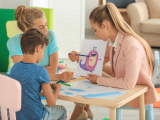 Behavior Health Professional Certification Training
with Woodfords Family Services

Current session started Sep 22, 2022
Our community is looking for individuals who want to make a difference in a child's life. Children's Behavioral Health Services are vital to Maine's children with Intellectual Disabilities, Autism and Mental Health Disorders and their families. The need in our area is great!

We are excited to connect our community to this wonderful ONLINE training program. The online training will equip you to help children who are receiving Behavioral Health services. The training will prepare you for employment through local social services providers. The training can be started at any time and finished at your own pace.

You will complete 12 online modules and 12 hours of live instruction (offered virtually). An online Bloodborne Pathogens training, as well as Child & Adult First Aid & CPR training, will be made available to you, if you do not already possess those certifications. The entire training takes about 45 hours to complete. Registration is ongoing until June 30, 2022.

Any individual who will be 18 years of age or older upon completion of the course may register. (Individuals must be at least 18 and have a high school diploma or equivalent to get certified).

See Blended Learning Curriculum at Woodfords Family Service for more information at www.woodfords.org/bhp-program/
Instructor: Woodfords Family Services
Start Any Time/Finish At Your Own Pace
Location: Online


CPR
with Charissa Kerr

Next available session starts Dec 8, 2022 at 6 pm

, runs for 1 week
CPR class includes: adult, child and infant CPR and AED use, adult, child and infant choking, and how and when to call emergency services. The course cost includes use of the manikins, DVD, certified instructor, practical components, and a certificate of completion. The video portion has been shortened, and the practical time has been increased to ensure everyone has enough time to gain confidence in their skills. This class is taught to the standards established by the American Heart Association.The workbook is not included with this class.

Only one section is needed for your certification. Upon successful completion of your class your certificate will be sent to you within 5 business days.


*If you would like a workbook, please indicate on your registration form. Cost of the book is $10.
Instructor: Charissa Kerr
Section 1: Wednesday,10/19, 6:00 – 9:00 PM 
Section 2: Monday, 11/14, 6:00 – 9:00 PM
Section 3: Thursday, 12/8, 6:00 – 9:00 PM
Location: WHS - Katahdin Classroom 1
Fee: $54 per section
Online Registration Unavailable
IC3 and CompTIA/A+ IT Microcredential Training
Price not
available
with Lakes Region Adult Education
Are you interested in computer technology and an IT career?  If you've ever wanted to earn a certification to document your technology skills and knowledge, there's no time like the present.  We are pleased to be offering two course that will prepare you for testing as a computer support specialist.  Successful completion of IC3 and the CompTIA course will prepare you to test for Computer Support Specialist certification.
This valuable industry recognized micro-credential certification is a 3-part process.  Students complet IC3 level and CompTIA/A+ certification, along with a 20-hour internship after passing the exams for each section.
IC3 Digital Literacy Certification
IC3 (Internet Core Competency Certification) Digital Literacy Certification is a global benchmark for basic computer foundational skills, including operationg systems, hardware, networks, and Microsoft Office tools.  The IC3 certification tests concepts and skills that apply to almost any school or career pathway.  This five week blended learning class (two hours live, three hours remote/virtual).  IC3 required testing is included in this free course.  Taught by an IT specialist and current Lake Region Vocational Center instructor, David Rathbone, successful completion of this course will be the foundation for the subsequent CompTIA course that is requiered for certification.


CompTIA/A+IT Microcredential Training
Part 1: Introduction to PC Repair, 8-week session
Part 2: Advanced PC Repair, 8-week session
*There will be an information session in September for interested students.  To register for information night and get more information on this course, please contact Lake Regions Adult Education at 207-647-5138, email adulted@lakeregionschools.org , or go to https://lakeregion-fryeburg.coursestorm.com/ .  Class size is limited.