Workforce Training
Registration Unavailable
Academy of Medical Professions Information Night
with Academy of Medical Professions

Feb 7, 2017 at 6 pm
, runs for 1 week
Academy of Medical Professions offers a variety of healthcare career classes which may be accessed either on site or web-based using the Tandberg system.
National certification programs available, but you must contact the Academy directly for a schedule of ongoing classes, registration information and payment plans at 866-516-8274 or 207-721-0714 or online at www.academyofmedicalprofessions.com
Medical Billing & Coding with CPBCertification
Medical Billing & Coding with CPCCertification
Hospital Billing & Coding with COCCertification
Medical Transcription Certificate Program
Pharmacy Technician Certification Programwith PTCB
Phlebotomy with CPT Certification
ICD 10 Boot Camp
Dental Assistant
Certified Group Exercise & Personal Training
Medical Office Specialist with CMAA andCEHRS Certification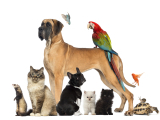 Certified Professional Pet Sitter
with Tina Christophersen
Turn your passion for pets into a rewarding professional career-become a pet sitter.
Do you have a passion for pets? Interested in a career change, a new business opportunity or a second source of income? Certified Professional Pet Sitters come from all walks of life—educators, business professionals, medical and veterinary industry support personnel—with a common desire to be their own bosses, work with companion animals and become pet sitters.
PSI's Certificate in Professional Pet Sitting Program provides the most comprehensive educational program available in the pet-sitting industry. This quality curriculum produces the skill sets pet sitters need to provide the most responsible pet care. Sections include Pet Care, Companion Animal Health & Nutrition, and Business & Office Procedures.
Pet Sitters International Certificate Program, including required PSI membership costs $390 if purchased at the same time. Visit www.petsit.com for membership and program enrollment.
The on-line Pet Sitters International Certificate exam can be scheduled by contacting Windham Raymond Adult Education (207-892-1819).
Registration Unavailable
WorkReady for New Mainers
with Kathy Floyd

Jan 18, 2017 at 1 pm
, runs for 10 weeks
Are You New To Maine?
Now enrolling! Employment Skills Training
Learn how to seek and apply for jobs
Find out what employers will expect from you—straight from the source
Increase awareness of cultural and language differences
Network and perform mock interviews with local and national businesses
Practice working in a team environment
Develop Computer skills
Acquire the social skills needed to be a better employee
Create an approved, finalized resume and cover letter
Improve communication and interpersonal skills
Class begins on Wednesday, January 18th!
To enroll contact:
Matt Hayden at Workforce Solutions 775-5891 ~ matthew.hayden@goodwillnne.org