Filter by Category
Business Training
Registration Unavailable
Microsoft Office Certifications Test Preps
with Shelli Pride

at 6 pm
Microsoft Office Certification Test Preps
Microsoft Office certifications are valuable, nationally recognized industry credentials and the need for Microsoft
Office skills is increasing dramatically as more and more schools and businesses embrace newer technologies.
Prerequisites are successful completion of Microsoft Office Classes or instructor permission.
Instructor: Shelli Pride
Mondays, upon request, 6:00 – 8:30 PM for 4 sessions
Location: Windham Raymond Adult Education Office
Fee: $54, plus $120 test fee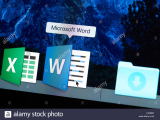 Microsoft Word Basics
with Stacia Dugas

Mar 13, 2019 at 6 pm

, runs for 4 weeks
Microsoft Word Basics
Microsoft Word is the go-to word processor used today. From school papers to business correspondence to personal letters, almost everyone will need to use it at some point in their life. This course is intended for those who want (or need) to learn basic Word skills, such as creating, editing, formatting, and saving documents; page setup options; and employing a variety of techniques for improving the appearance and accuracy of document content. This course covers everything you need to start using Word effectively. So what are you waiting for? Let's get started learning Word today.
Instructor: Stacia Dugas
Wednesdays, 3/13 - 4/3, 6:00 - 8:00 PM for 4 sessions
Location: Windham High School – Room 125
Fee: $49
Stacia Dugas is the Career Pathways Coordinator at WRAE. She has a BA from USM and over 30 years of office experience in the private sector. She is passionate about her family, helping people, writing, sewing, making art and reading, although not always in that order.
ServSafe Food Safety Manager Recertification
with Stuart Leckie, FMP

Apr 6, 2019 at 9 am
ServSafe® Food Safety Manager Training Program
Do you work in a school nutrition program, a summer camp kitchen, or a local eatery? Join the more than 4 million foodservice professionals who have been certified through the ServSafe Food Protection Manager Certification Program. ServSafe training and certification is recognized by more federal, state, and local jurisdictions than any other food safety certification. This course teaches safe food handling, how to protect public health through food safety best practices, and much more. Join Instructor Jennifer Mayberry for this two-day certification workshop or join the second day to review and test for your recertification. NOTE: You will need to purchase your book and test voucher at https://www.servsafe.com/access/ss/Catalog/ProductList/189. PRIOR to the first day of class. Textbook and online voucher are $68. Recertificants can use their original textbooks. Pre-reading/study of your textbook is highly recommended. Students will not be admitted to class without a book and test voucher. If you have difficulty purchasing either item please do not hesitate to call WRAE at 892-1819 and we can assist you.
Instructor: Stuart Leckie
Saturday, 4/6, 9:00 AM to 4:00 PM for 1 session (1/2 hour for lunch. Lunch not provided.)
Location: Windham Raymond Adult Education Learning Center
Fees: Recertification: $34
Stuart Leckie, FMP, has been teaching ServSafe® classes in Maine for more than thirteen years. With more than 30 years in the food and beverage industry, the knowledge and experience Stuart has to offer is second to none.