Filter by Category
Arts & Crafts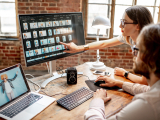 Using Google Photos To Organize and Share Your Photos
with Bill Keller

Next available session starts Oct 19, 2020 at 6 pm

, runs for 2 weeks
In this class, we will explore the many ways that Google Photos can help you to organize, share, edit, all your photos at no cost to you for the app or for unlimited storage. When you finish this two session class, you should be skilled in using all of the tools of this amazing app. 
To participate, you must have a Google Account which the teacher will help you obtain. You already have that if you use Gmail. If you don't have Gmail, there is no need to get a Gmail to get a Google account. Also note that if you take the Exploring Google five week class, we will spend at least one session on Google Photos. 
This class will be taught via Zoom. If you haven't used Zoom, Bill will do a short lesson with you (via Zoom) before the start of the first session.  
Instructor: Bill Keller
Mondays, 10/19 - 10-26  6:00 - 8:00PM for 2 sessions
Location: WRAE Learning Center