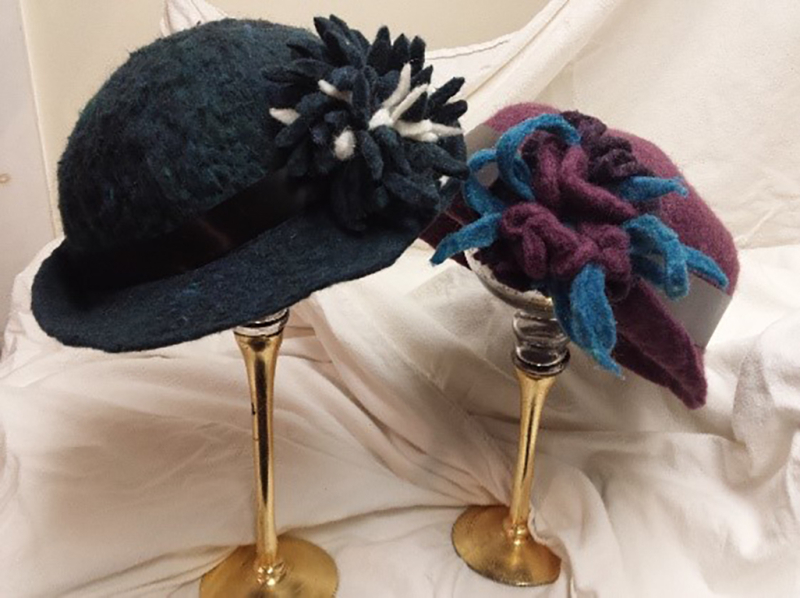 Felted Hats - Beginner/Intermediate
with Patty Collins
$2900
Felted Hats – Beginner/Intermediate
Come learn how to make these fun and colorful hats using both needle and wet felting techniques. In the first class, we will be using a foam hat form to build the shell for your hat. In the next class, we will wet-felt and shape your hat.
The hats are fun to make and great for the beginner to experienced felter. Tools will be available to use in class. If
you have a multi-tool and needles, please feel free to bring them! Materials needed: 5 ounces of roving – choose from Merino, Cordial or Romney. (Please no peace fleece for this class); Bath towel; Wool can be purchased at Portfiber, 50 Cove St., Portland.
Instructor: Patty Collins
Mondays, 3/4 – 3/11, 6:00 – 8:00 PM for 2 sessions
Location: Windham High School – Room 302
Fee: $29, plus $10 materials fee paid to the instructor
Patricia (Patty) Collins has discovered, through felting, a fun, therapeutic and easy-to-do art form that she is excited to share with others. As a mom of two, grandmother of four, and full-time program coordinator, she finds in felting a way to express her creativity in a relaxing, calming, and gratifying experience. Patty will confidently instruct others to be amazed by their own talents through felting.
Mar

4

-

11th

,

2019

Mon

for

2 weeks

from

6:00 - 8:00 pm
Windham High School
406 Gray Road
Windham, ME 04062 Get directions
Room: 302