Filter by Subcategory
College Transitions
Pre-College Math
with Jodi Harnden

Sep 18, 2017 at 4 pm

, runs for 14 weeks
Pre-College Math
Our pre-college math class is designed for students who want to brush up on their math skills or seek to boost their Accuplacer scores for college entry. This course will review basic math, including factoring, fractions, percents, and word problems, well as some elementary algebra concepts in a supportive environment. Students will have time for practicing skills, asking questions and learning some basic skills in time management and organization. No class 10/9.
Instructor: Jodi Harnden
Mondays, 9/11 - 12/18. 4:00 - 7:00 PM for 14 sessions
Location: Windham High School - Tandberg/Room 129
Fee: $39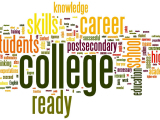 Registration Unavailable
Success in College
with Shelli Pride

Sep 11, 2017 at 1:30 pm

, runs for 14 weeks
Success in College
Success in College introduces students to the college environment and provides opportunities to strengthen skills necessary for success at the college level. Learning Theories and Self-Assessment Units explore the learning process, learning styles, and student developmental theory. Career Decision Making Unit helps students understand and successfully manage some of their life and career transitions through readings, writing, and other activities. This course, under certain circumstances, earns three credits at SMCC and one credit at CMCC.